Villa Can Pastilla I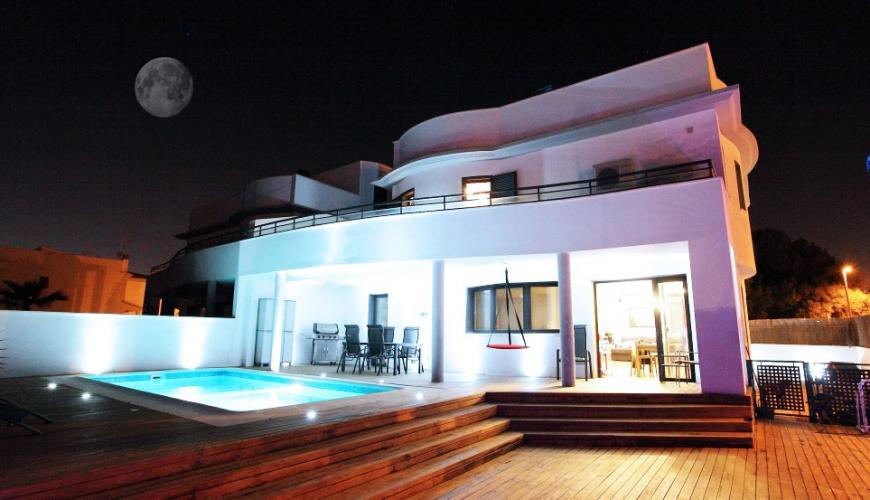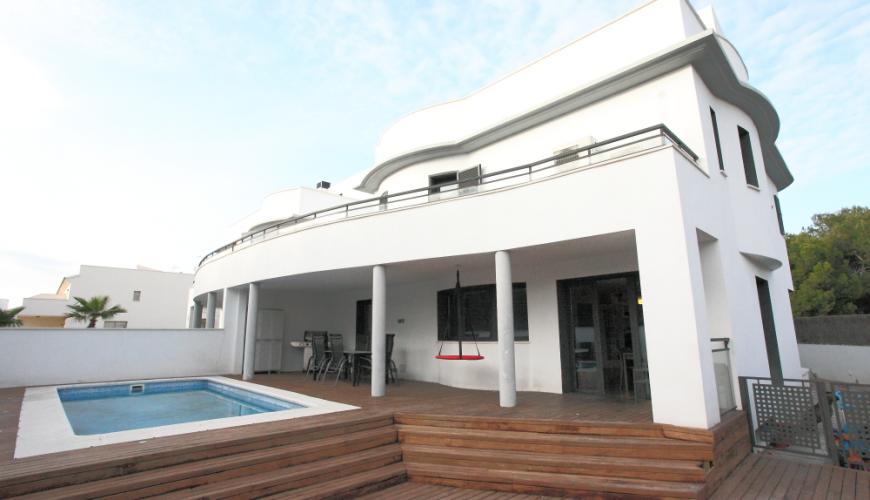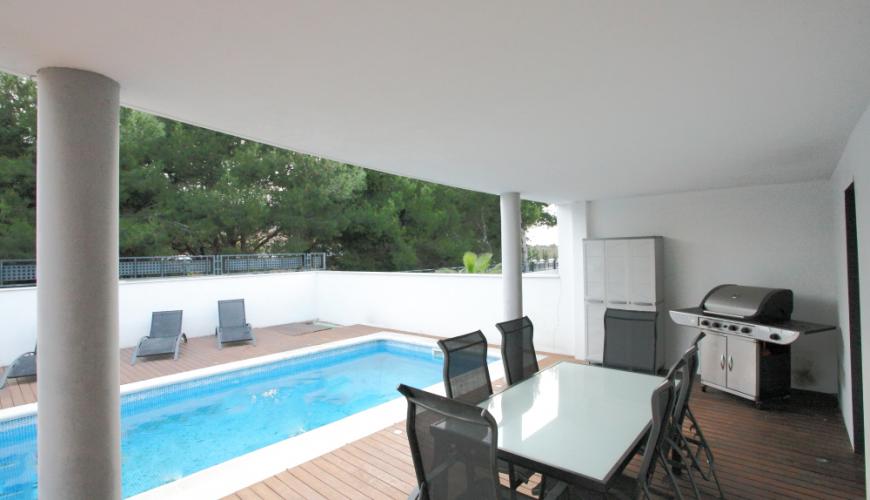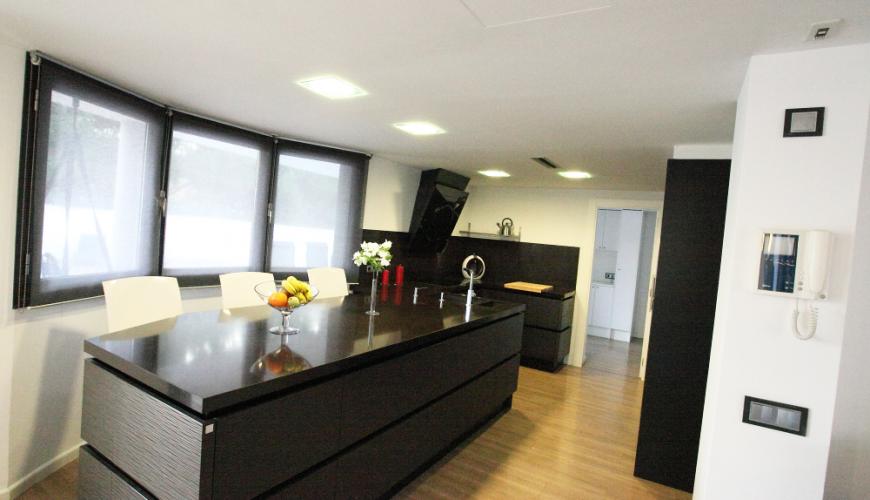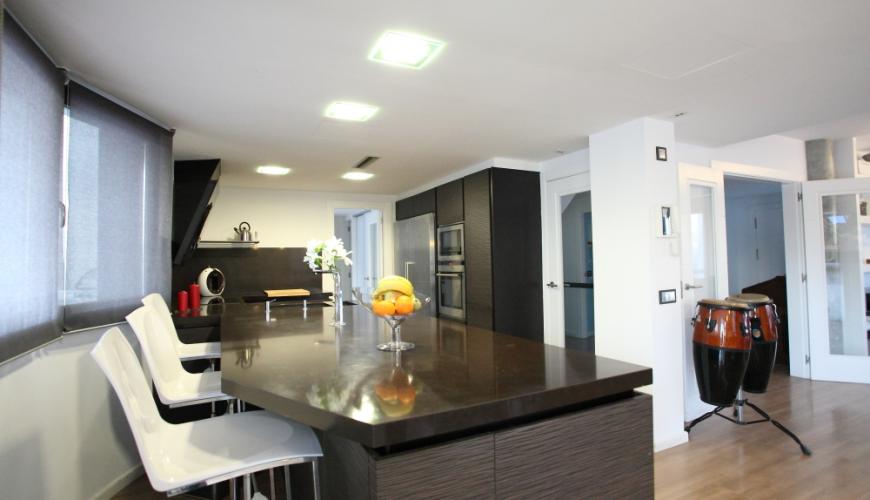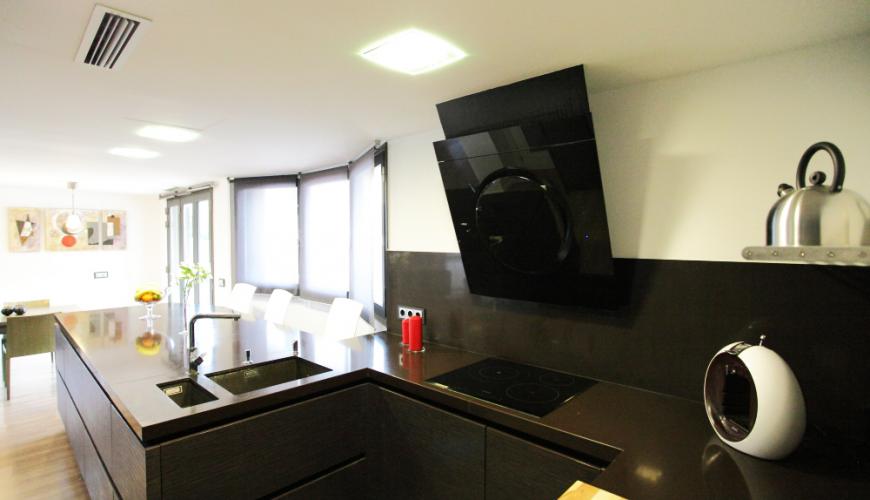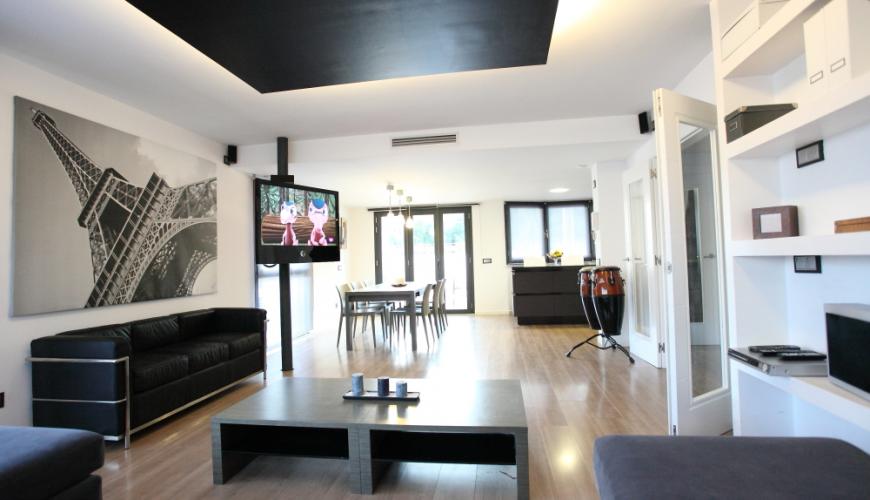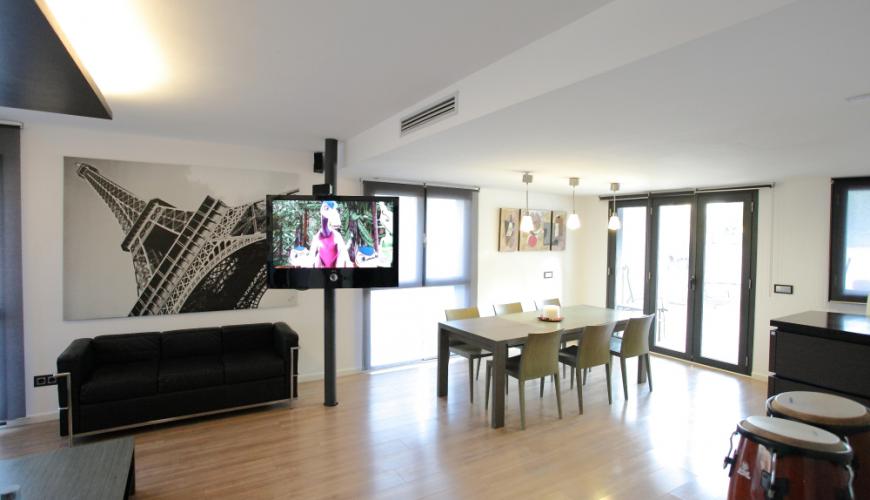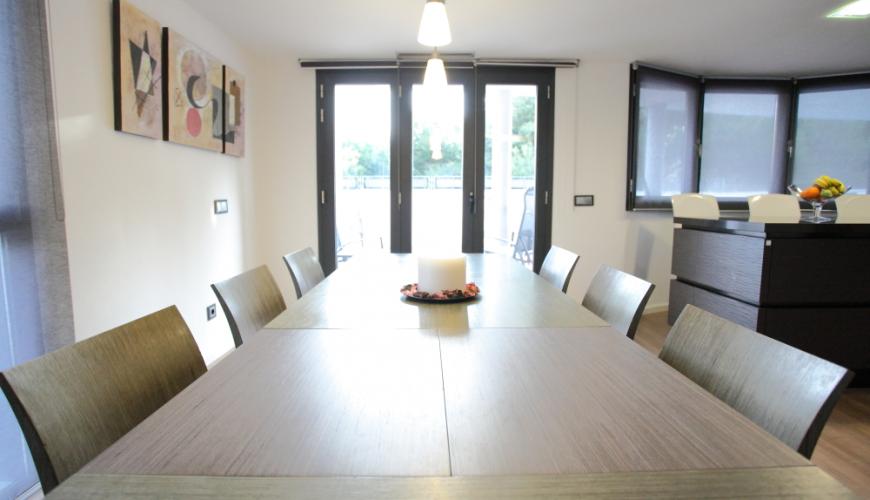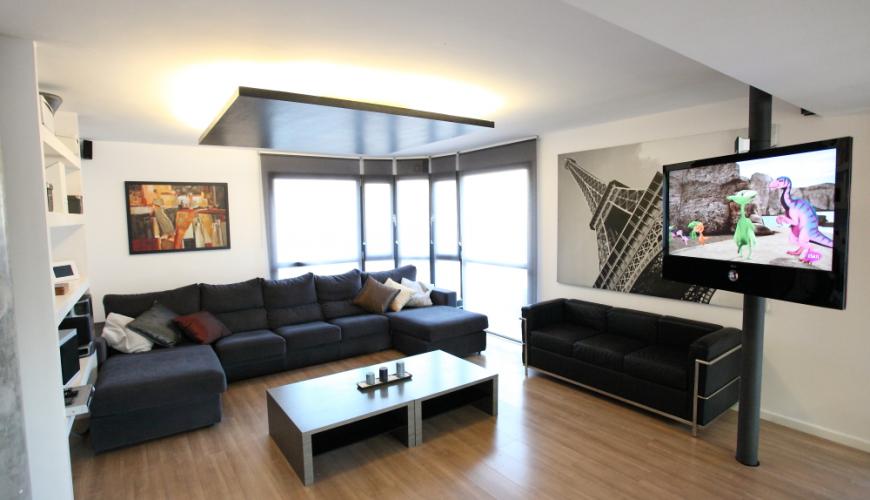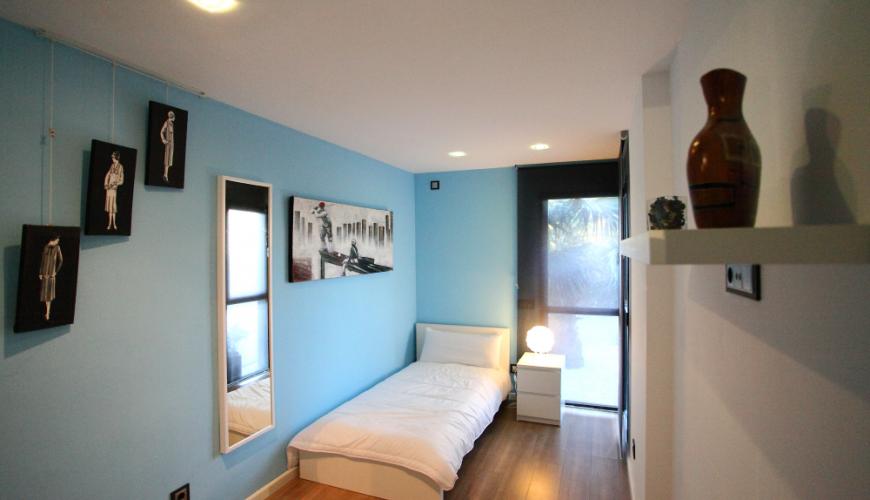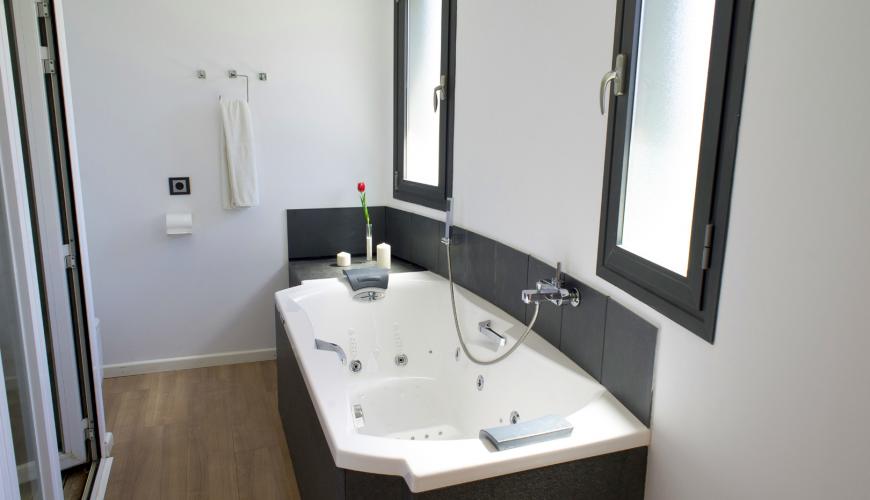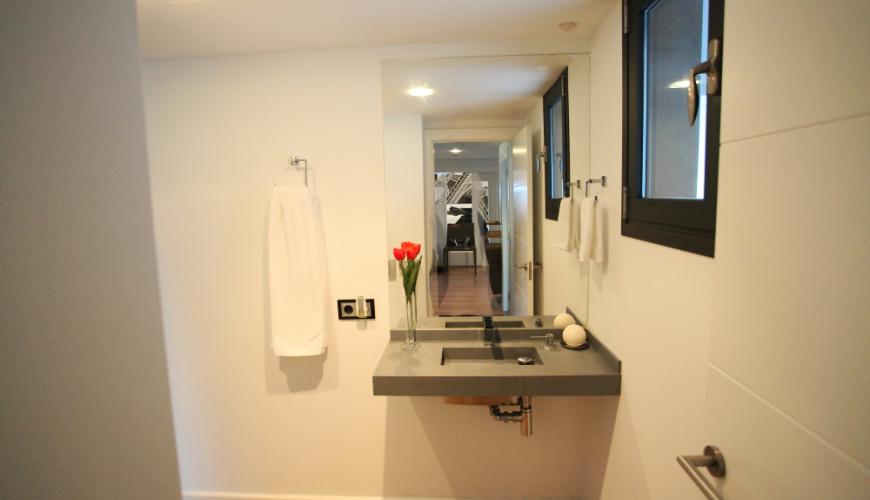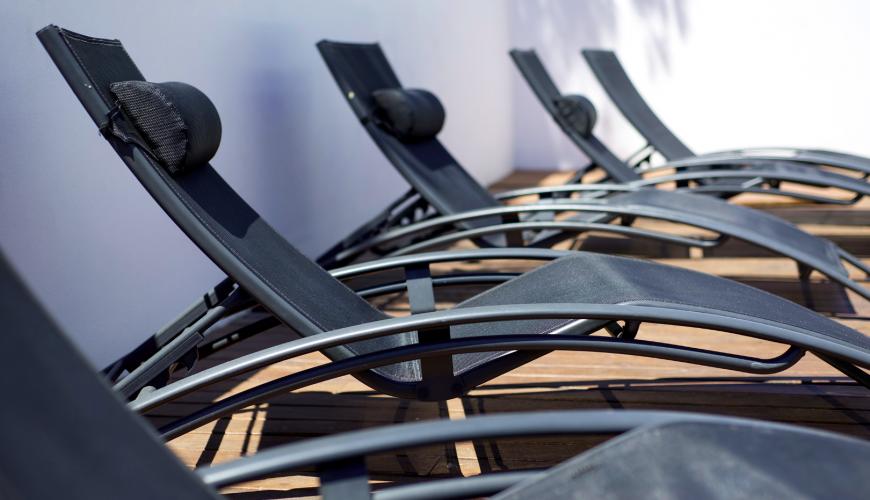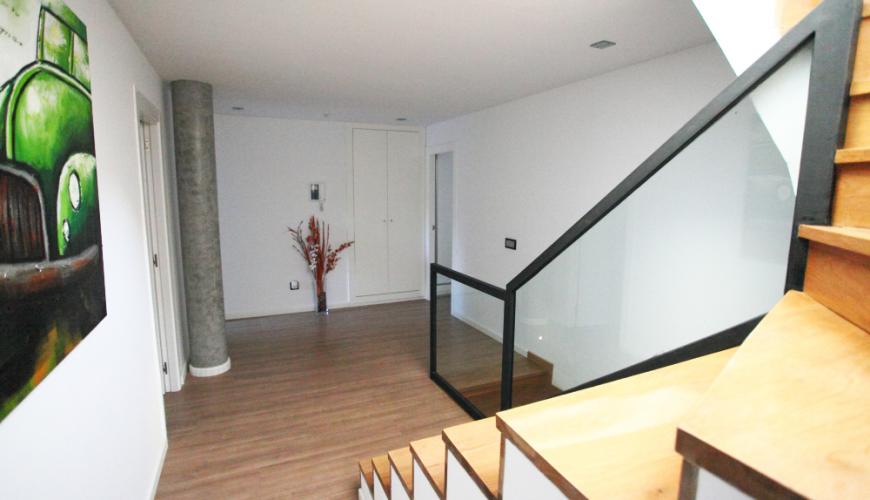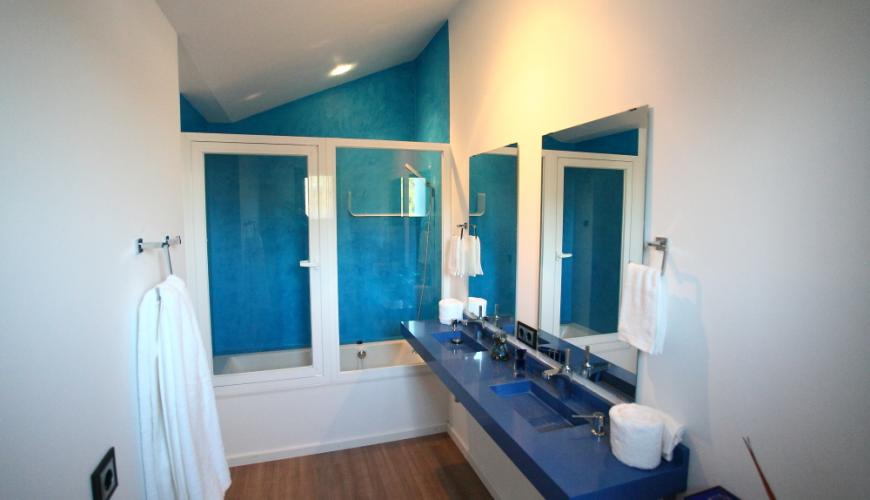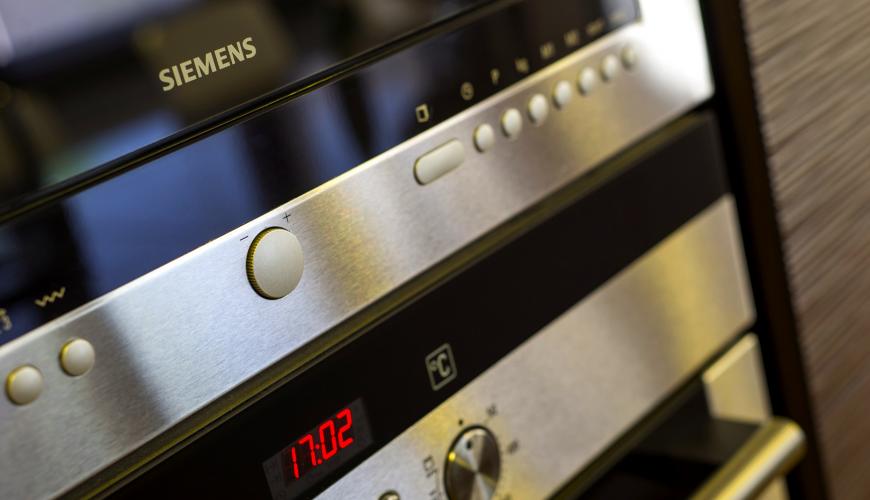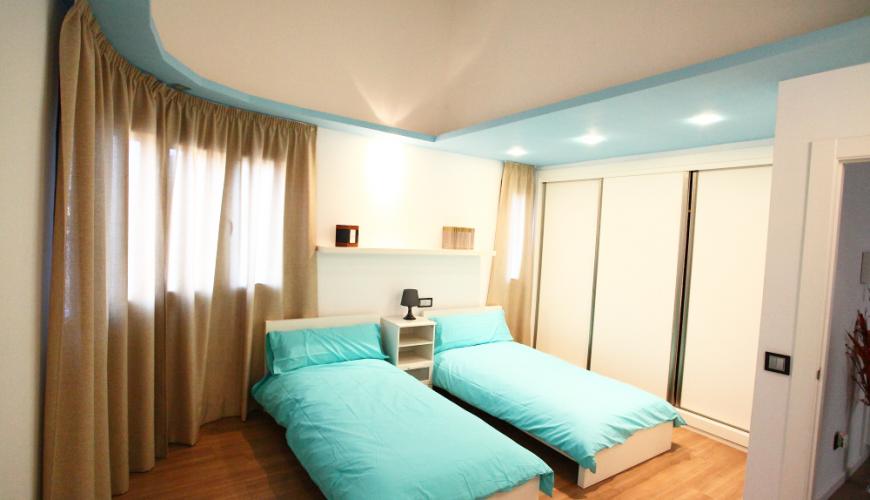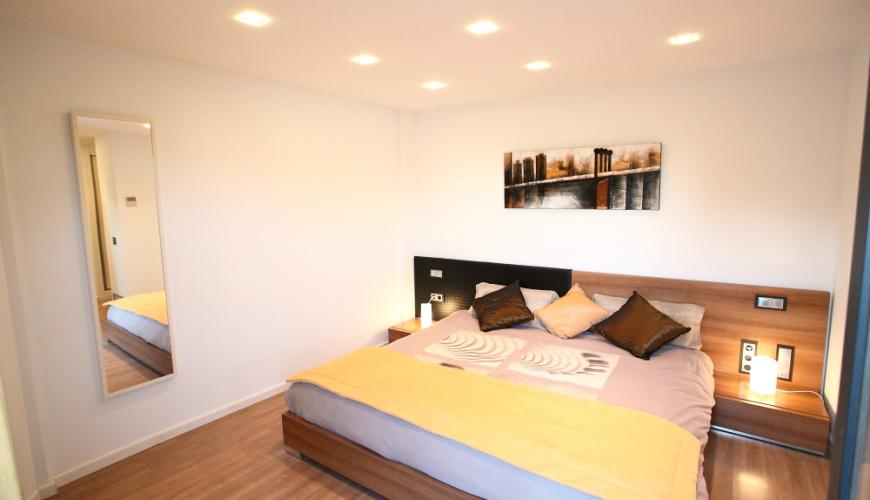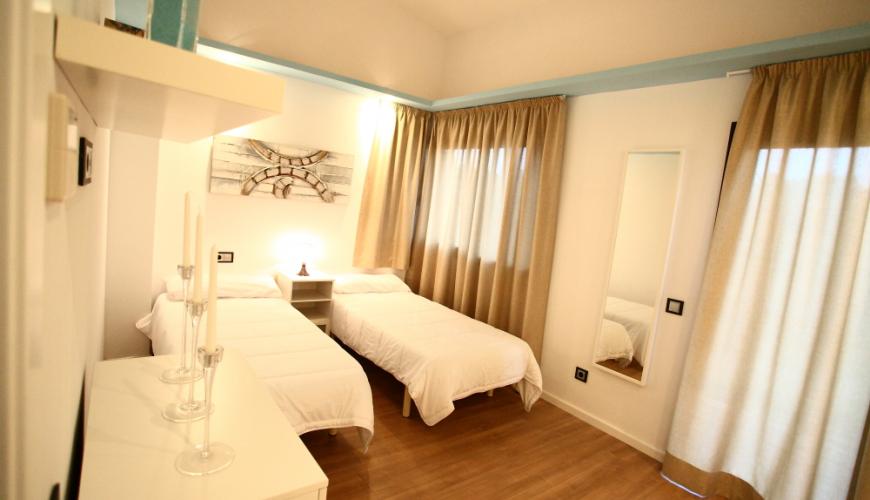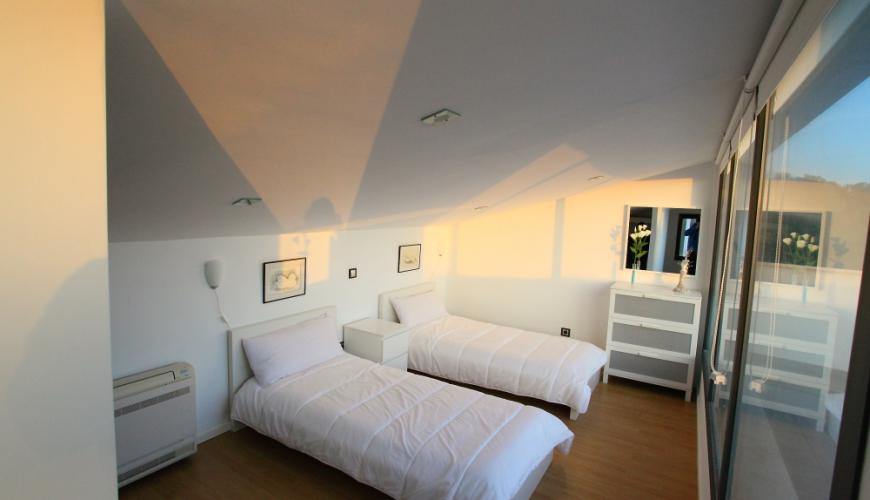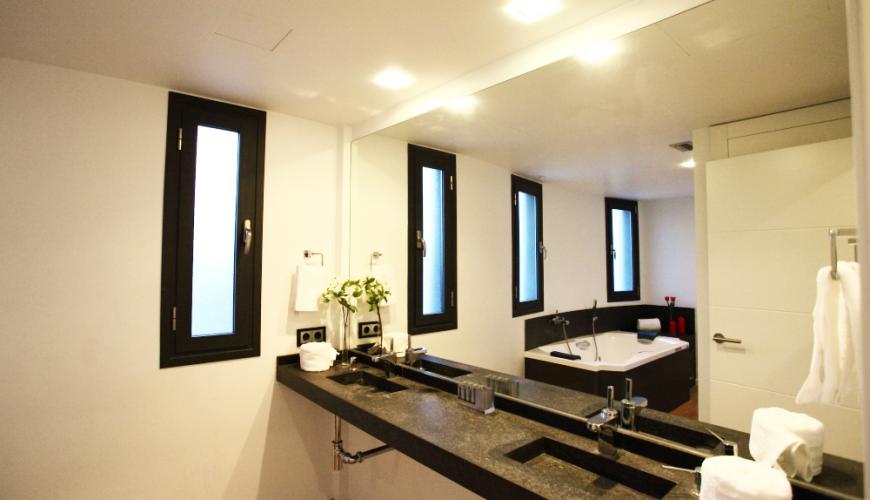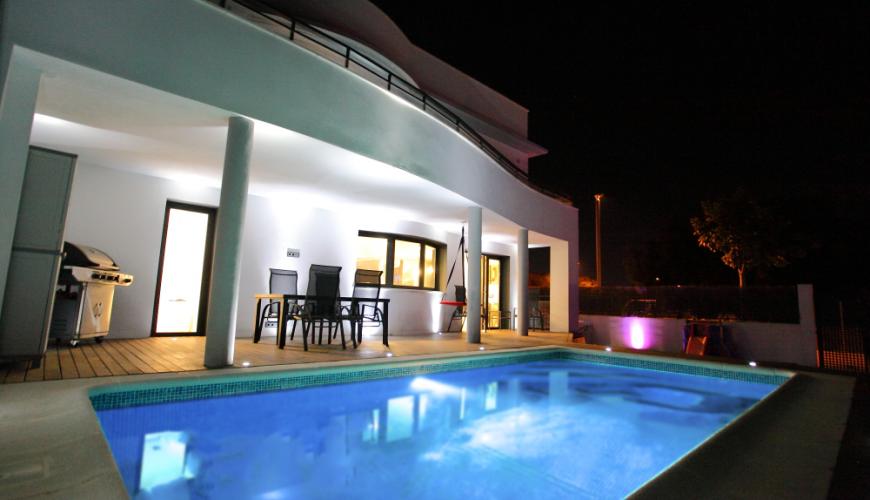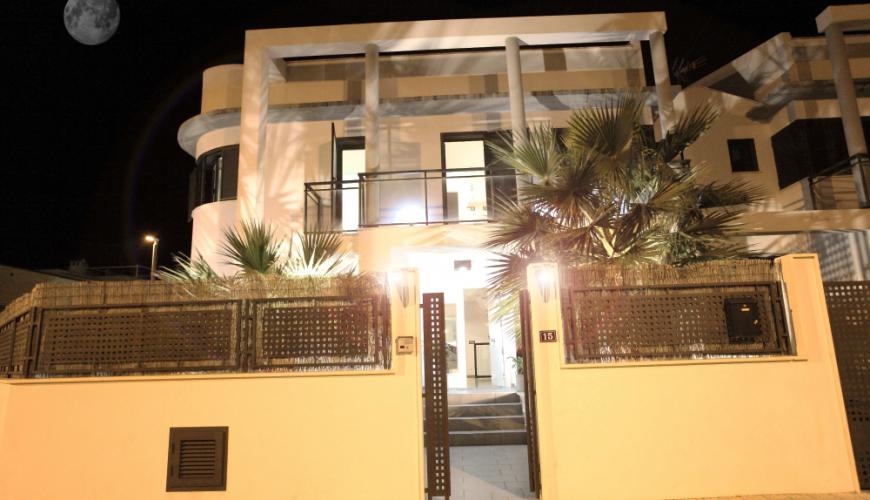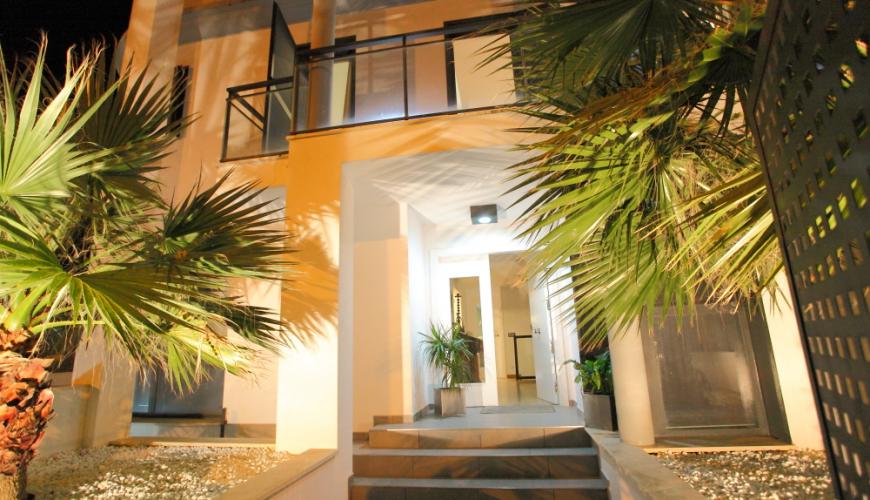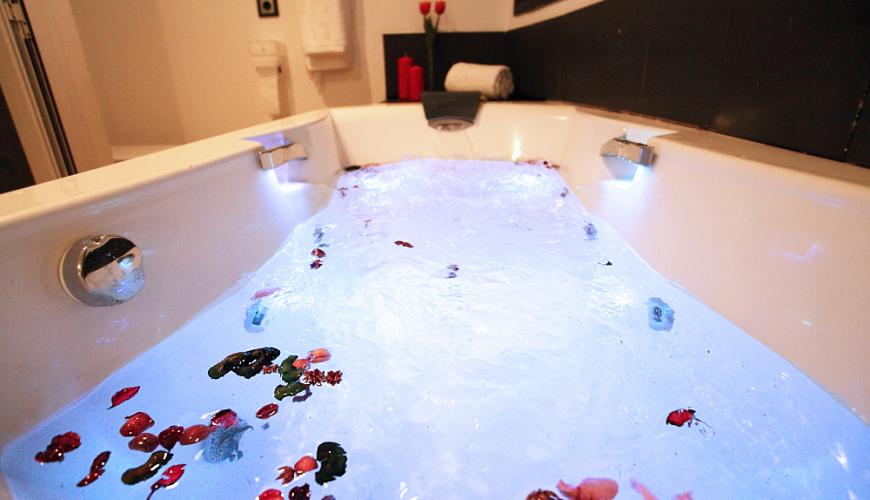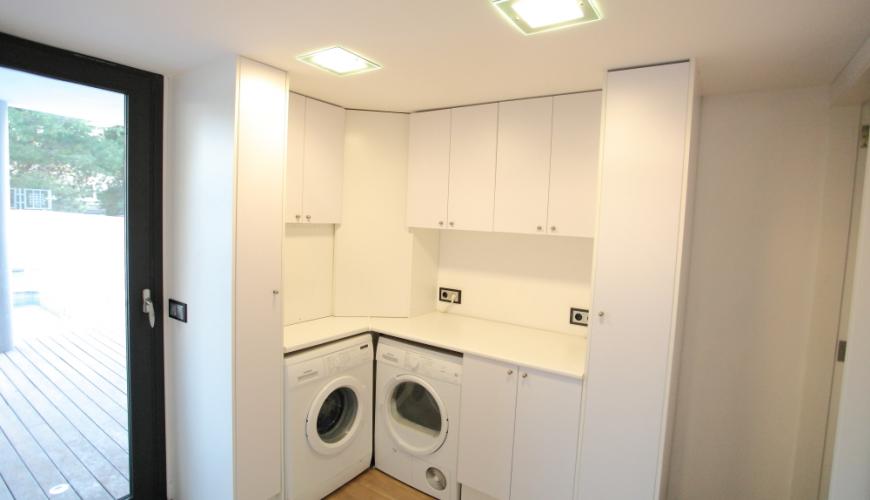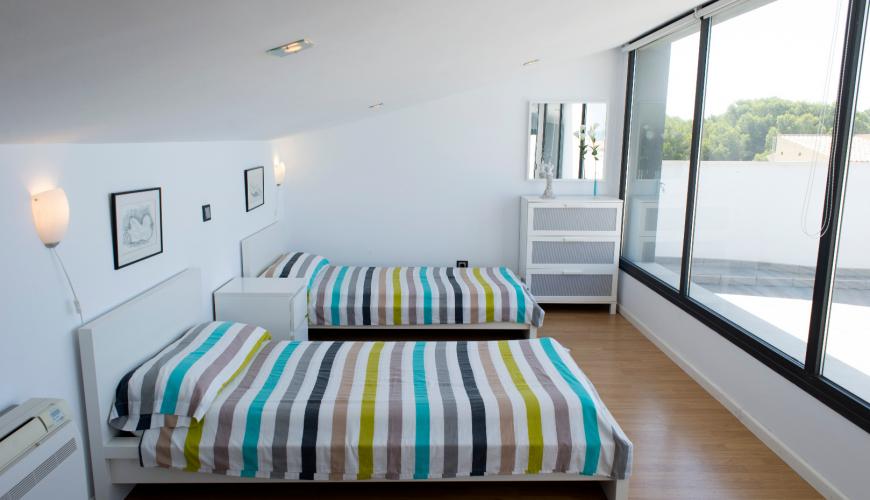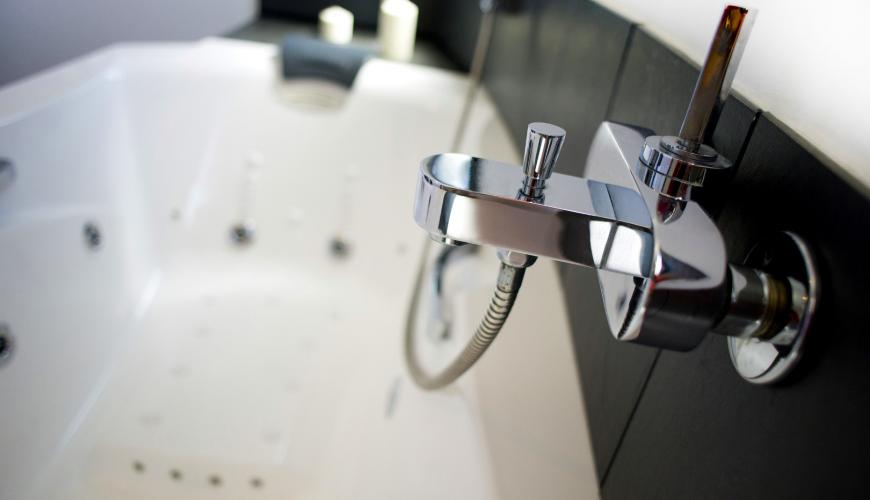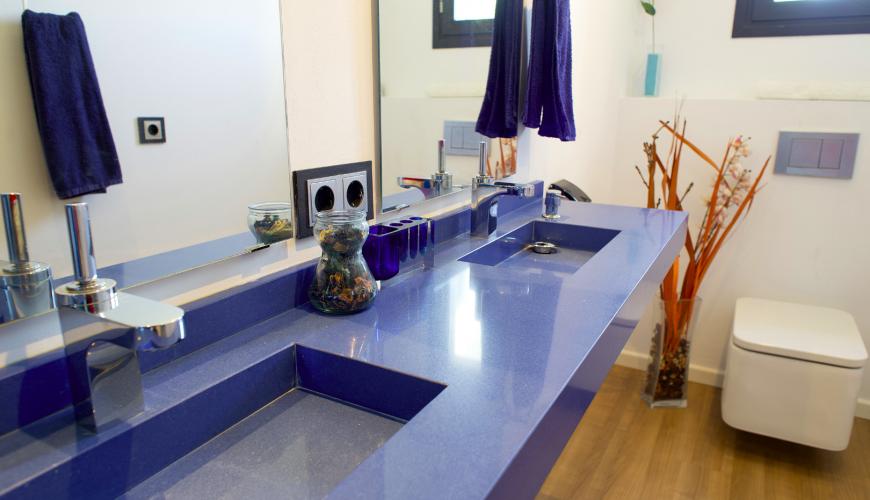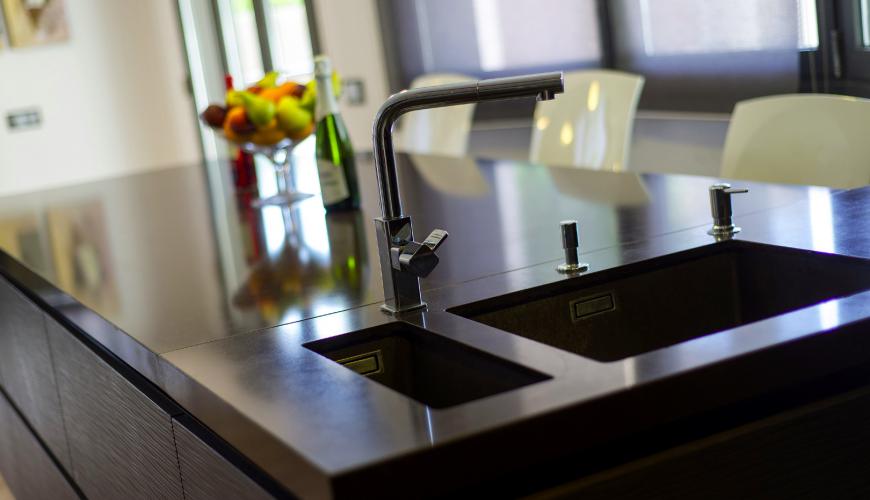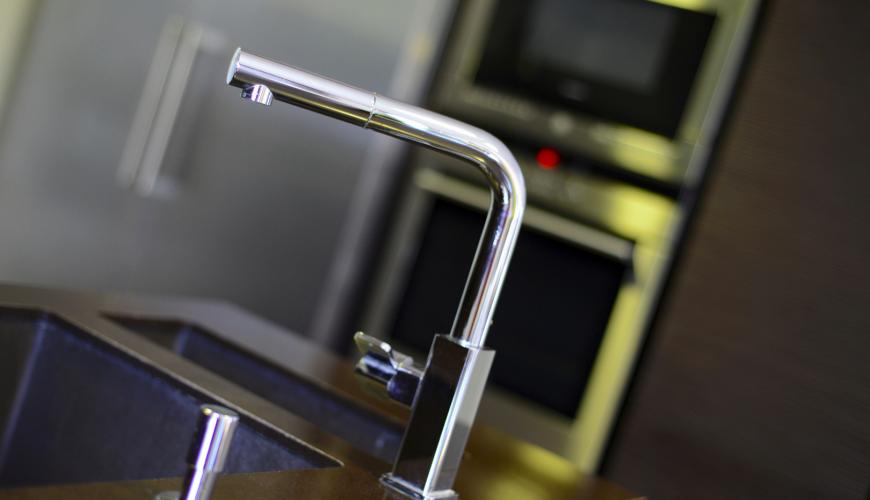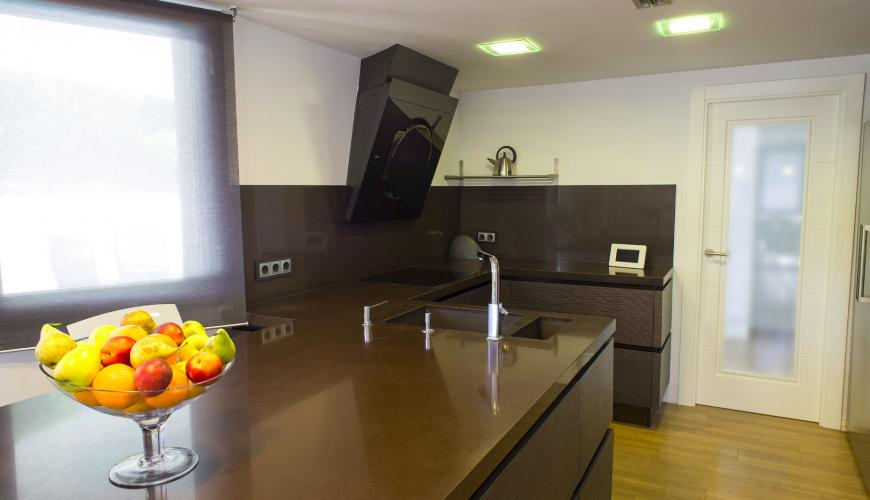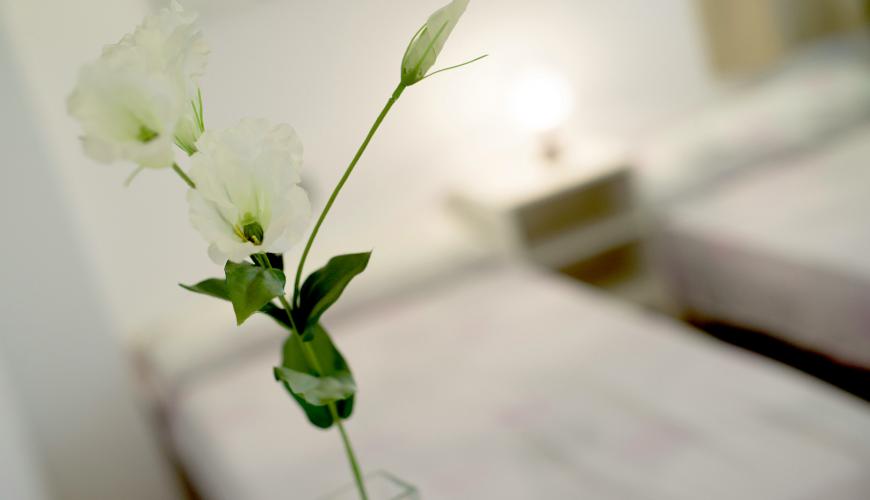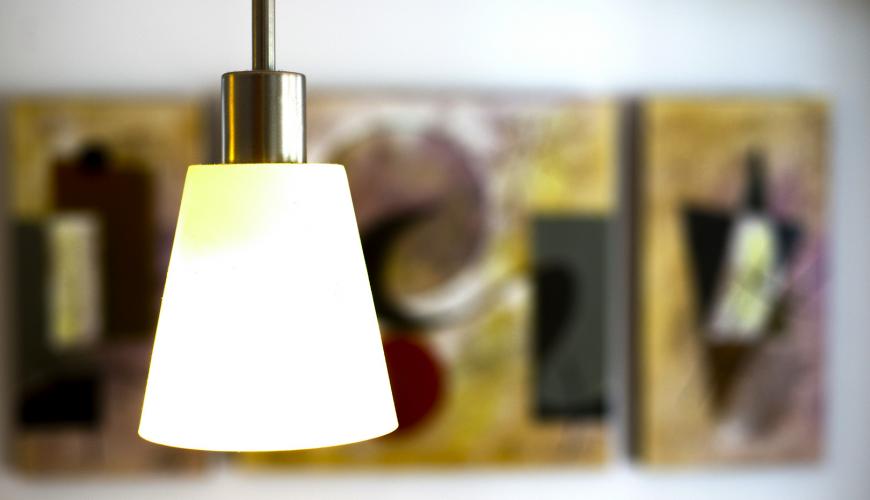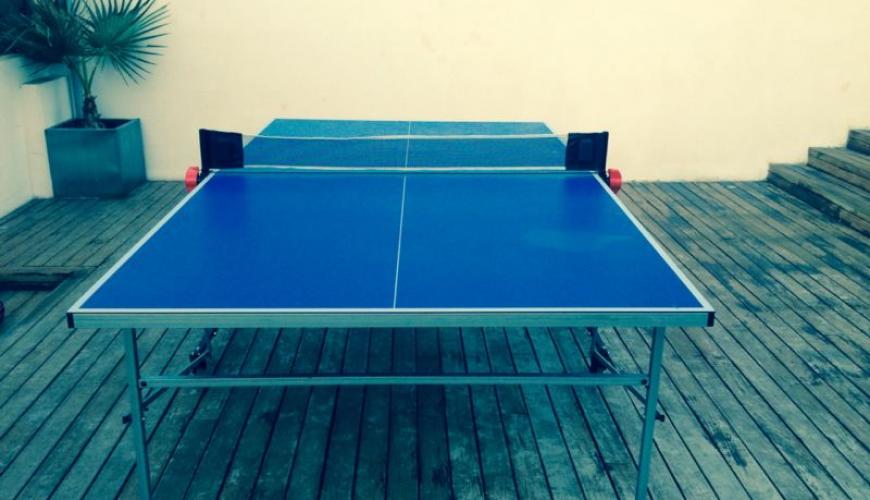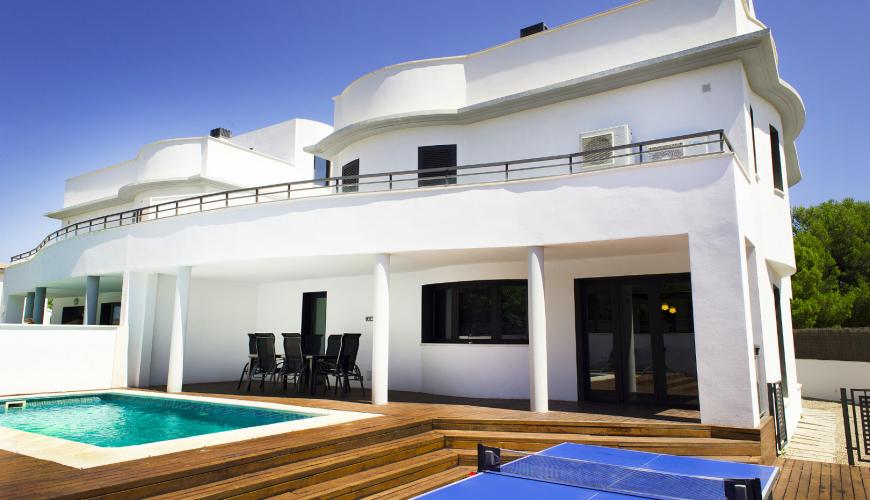 Villa Can Pastilla I
Details
| | |
| --- | --- |
| Type of property: | Villa |
| Reference number: | Villa can Pastilla 1 |
| Property location: | Can Pastilla, Palma |
| Capacity: | 11 |
| Bathrooms: | 3 |
| Rooms: | 5 |
| Surface: | 350 m2 |
Villa Can Pastilla | Majorca
Modern luxury villa located in the exclusive area of ​​Cala Estancia (belonging to Ca'n Pastilla), only 500m from the beach .

Cala Estancia beach awarded with Blue Flag, has an area of ​​220m by 37m wide, composed mainly of white sand and calm waters. It has regular bus services as urban parking, rental of umbrellas and sunbeds, water sports and is even suitable for diving.

The newly built house is spread over three floors. The ground floor consists of a spacious and cozy living room open, where you can enjoy the comfort of the couch with a wide selection of TV channels ( Astra satellite ), DVD player, Freeview and free WIFI .
The dining area, with a repeating table is between the living room and kitchen, with exceptional natural lighting.

The kitchen is fully equipped with modern appliances : American fridge, oven, microwave, hob and extractor hood modern. It has a center island, serving a nice breakfast or snack.
It also consists of laundry area with washing machine, dryer and iron.

On this floor there is a room with a single bed and a bathroom with shower.

The first floor has 3 double bedrooms. One of them with double bed and bathroom en suite, equipped with a beautiful bath tub. The other two rooms are made up of 2 single beds each and share a bathroom with bath, located in the hallway.

On the upper floor is the last room with two single beds and the possibility of adding 2 extra beds.

All rooms are air conditioning and protected from external noise.

Large balconies (safe for children), offering relaxing or sunbathing.

On the terrace, protected from the sun, you can enjoy the barbecue and magnificent lunch and dinner overlooking the private pool, and a ping pong table and darts.
The villa has a large garden area to relax sunbathing around the pool .

Near the villa you can enjoy both for different activities and attractions such as golf, riding, Palma Aquarium (one of the largest in Europe), many bike routes, natural and quiet beaches, SPA wellness to relax, club beach and restaurants just minutes away.

It offers the possibility of having a 30-liter beer keg with a price of € 80 per unit as well as other items upon request.

If you need a baby cot or high chair, please let us know in advance.

The ECOTAX is included in the price.

To confirm the booking we request 10% in advance. The balance is paid at arrival in cash, unless previously been agreed otherwise payment.

ON ARRIVAL

The villa will be available from 16.00hrs the day of your arrival. Early arrival is not recommended since this is when general maintenance service is carried out. Anyway, if you are due to arrive earlier, you can contact us, and we'll suggest you places to go shopping, have some meal, or even arrange an earlier arrival time.
At the arrival we will request a credit card to apply a 1.000€ retention in order to ensure the preservation of housing, after the departure the villa will be reviewed and the retention will be canceled after a few days if there is no material damage.


ON DEPARTURE

On your departure day you should leave the villa before 10.00 a.m. As you may understand, we must have it prepared for the next guests. However, if you have a later flight please don't hesitate to contact us, since we can take care of your personal belongings. In case the property is not being occupied, we may also arrange a later check-out time.


INTERNET

WiFi free of charge is available for our guests, by meaning that you can bring your laptop and stay connected throughout your whole stay.


TELEVISION

The villa has a television with TDT (terrestrial digital television) and Astra satellite with as well as a DVD player.


SAFETY

Our villa is completely fenced and totally safe for children. It also has security doors and safe vaults.
Although Can Pastilla is a very low risky area, we recommend you to place all your valuable belongings in the safe, and not to carry them with you to the beach.
It is also important to ensure you that all doors and windows are correctly locked the moment you leave.


CLEANING

The villa has an utility room equipped with a washing machine, a dryer, clothes line and all the cleaning material that may be needed to maintain the villa.
The kitchen includes a dishwasher to save you time to enjoy your holidays.
You'll find the villa in clean conditions and provided with sheets and towels (please bring your own beach towels).
As far as possible we request you to keep the villa clean and tidy during your whole stay.
If you need an external cleaning service you may order it with an extra charge of cost of 20€ per hour with a minimum of two hours per session.
Rubbish should be placed in specific bags at the containers located at the road for this purpose.

There is a supplement of € 170 for final cleaning of the house.

Noise:

It is totally forbidden to hold parties in the house after 12 at night, any complaint from the neighbors with police intervention, will be grounds for expulsion from the house, as well as for the loss of the deposit delivered.

WATER

The scarcity of water in Majorca is a fact that should make us feel conscious about it and try not to waste it, so we would appreciate if you had it in mind.
Majorca's water is suitable for cooking but it is not recommended to drink it.


INFORMATION OF INTEREST:

Nearest Airport: Son San Joan at 4 Kilometers
Nearest Ferry: Palma at 10 Kilometers
Nearest Train: Palma at 7 Kilometers
Motorway / Nearest Motorway: Autopista de Levante at 300 Meters
Nearest Beach: Can Pastilla at 500 Meters
Bar lounge - closer cafeteria: several at 230 Meters
Nearest Restaurant: several at 230 Meters
Nearest supermarket: in 950 Meters
Nearest Golf: Golf Mallorca at 4 Kilometers


Registration number: ET / 3446
Property features
Air-conditioning
Barbecue
Heating
Baby Cot
DVD
Internet
Garden
Washing machine
Dishwasher
Swimming pool
Terrace
Highchair
Satelite TV
Location
Town information
Palma de Mallorca
It is the capital
of the island of
Mallorca
, is located
in the bay
of the same name
,
and has
a pleasant climate
all year round.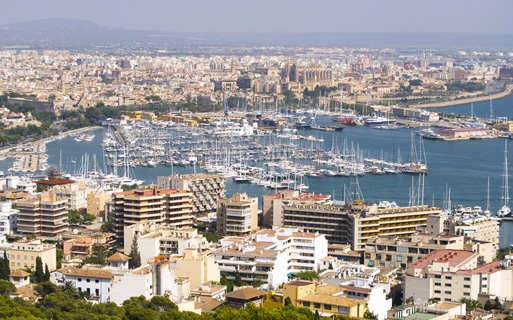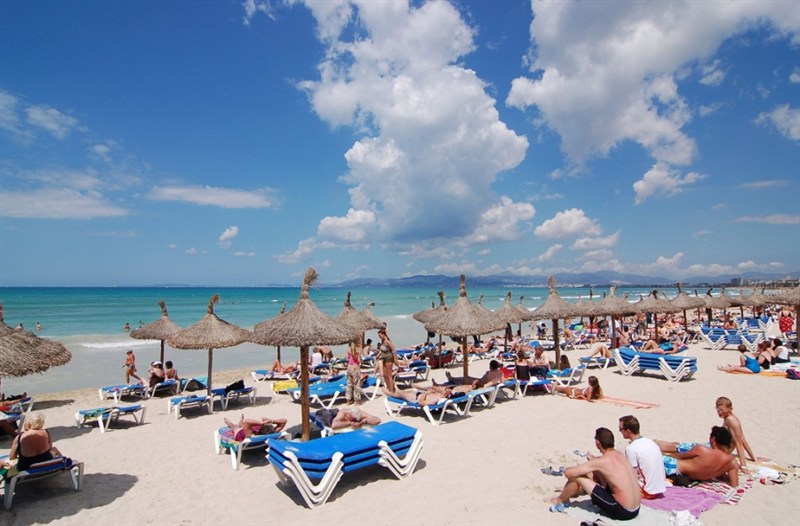 (
With
an average temperature of
17.9
°
C
)
.
Well known
for its
sun and beach
tourism
, has a
beautiful old town
.
The Cathedral
(
both day
and night
), the
Almudaina Palace
,
the
Lonja
and the Plaza
Mayor
are some
of the prettiest
spots
in
the
the traveler can
stop.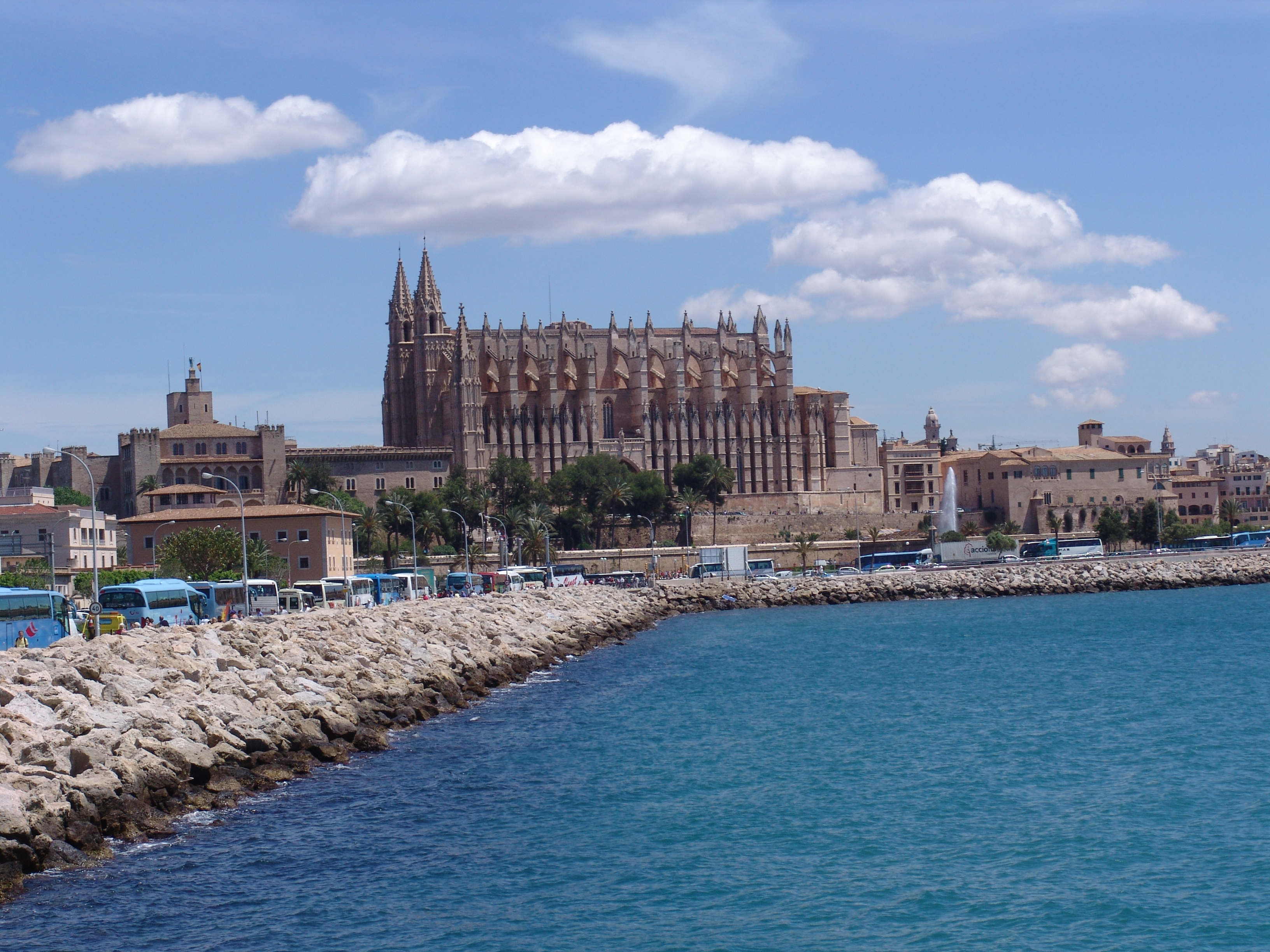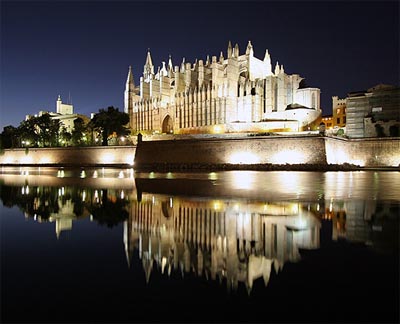 Baluard
museum
is
a must see,
contains a varied and
select collection of
paintings, drawings and
sculptures by artists
the most
significant international trends
since the late nineteenth
century.
So
may
contain pieces
of authors like
"
Cezanne
,
Gauguin
, Picasso
, Miró
, Magritte,
Polke
,
Barceló
or
Schnabel
. "It also
contains
an outstanding
example of
Mediterranean
landscape
and
authors related to
the Balearic
Islands,
such as
"
Santiago
Rusiñol
,
Anglada
-
Camarasa
and
Gelabert
"
.
Besides the
collection
permanent
, the museum
develops a wide
program of temporary
exhibitions.

Fishing boats
, pine forests
and
palm trees complement the
most beautiful monuments
of the island.
Mallorca's landscape
is
laced with
beautiful coves
, beaches
and cliffs on the
coast, while
inside there
localities
typical Majorcan
and
mountains
with heights up to
1,500 meters.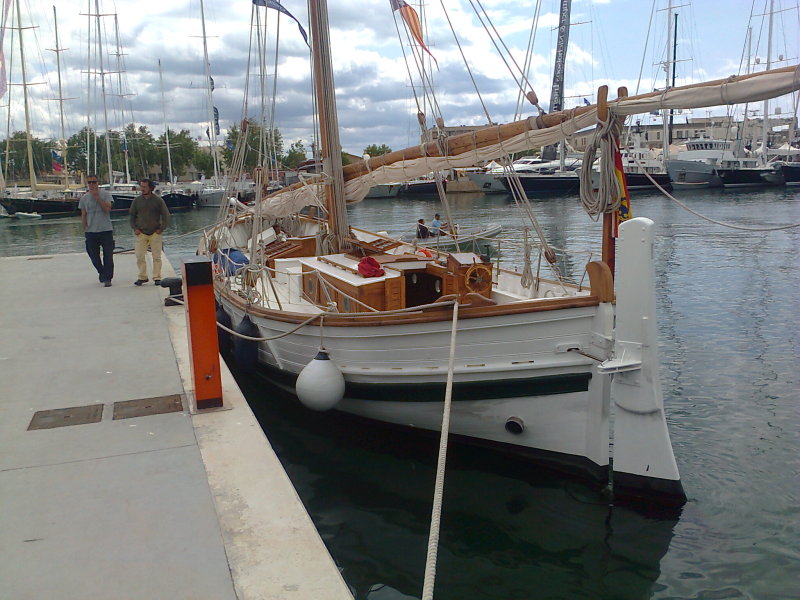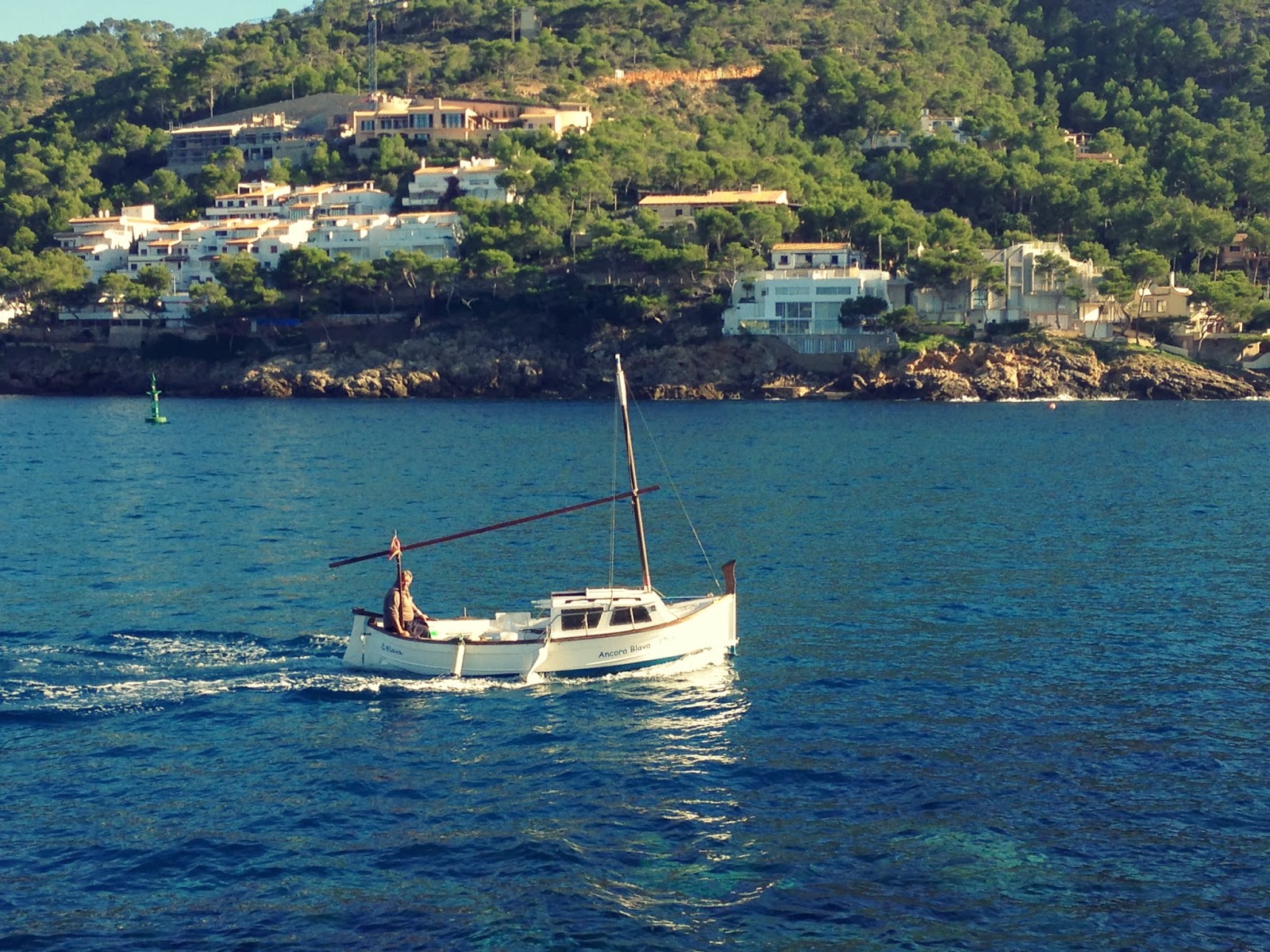 We enjoy a
scenic and cultural
richness that
invites you to explore
every inch of
Mallorca
and delve into
the
history and gastronomy
island
.
Palma,
the capital of the
island,
is a relatively large
town
divided into
5 zones
,
divided
in
89
districts
.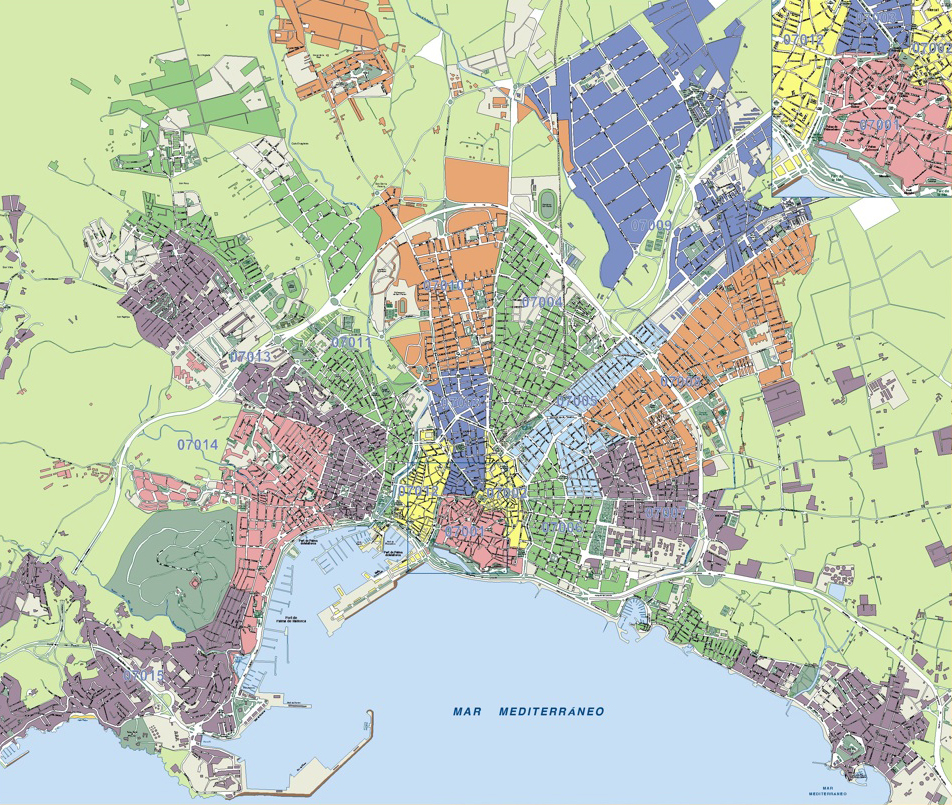 Zones
Inhabitants
Districts
Centro
25.630
Sa Calatrava, Cort, Jaime III, La Lonja-Borne, El Mercat, La Missió, Monti-sion, Plaça dels Patins,
Puig de Sant Pere, Sant Jaume, Sant Nicolau, La Seu, Sindicat, Zona portuaria4 y Cabrera4
Levante
140.731
L'Aranjassa, Can Capes, Sa Casa Blanca, Estadio Balear, Foners, Els Hostalets, Virgen de Lluc,
Marqués de la Fontsanta, Pedro Garau, Es Pil.larí, Polígono de Levante, Rafal Nou, Rafal Vell, Sant Jordi,
La Soledad Norte, La Soledad Sur, Son Canals, Son Cladera, Son Ferriol, Son Fortesa Norte,
Son Fortesa Sur, Son Gotleu, Son Malferit, Son Riera, Son Rullán, El Vivero y Aeropuerto4
Norte
89.462
Amanecer, Arxiduc, Bons Aires, Camp Redó, Cas Capiscol, Establiments, La Indiotería (rural),
La Indiotería (urbano), L'Oliverar, Plaza de Toros, Secar de la Real, Son Espanyol, Son Oliva y Son Sardina
Playa de Palma
52.447
S'Arenal, Can Pastilla, Can Pere Antoni, El Coll d'en Rabassa, Les Meravelles y El Molinar
Poniente
113.630
Los Almendros-Son Pacs, La Bonanova, Cala Major, Camp d'en Serralta, El Fortí, Génova, El Jonquet,
Portopí, Sant Agustí, Santa Catalina, Son Anglada, Son Armadams, Son Cotoner, Son Dameto,
Son Dureta, Son Espanyolet, Son Flor, Son Peretó, Son Rapinya, Son Roca, Son Serra-La Vileta,
Son Vida, Son Xigala, Son Ximelis, El Terreno, Sa Teulera y Bellver4

Playa de Palma

Located just 4 miles from the center part of the City and only two of the airport, is one of the most crowded and lively.
The morphology of the beach itself with 4 kilometers long and 50 meters wide, as wide offer of
entertainment that make Playa de Palma a unique destination in the Mediterranean.



The proximity of the capital allows visitors can also access sports, cultural shows, so how guided tours
and excursions, both on the streets of Palma itself, as for the rest of the island, a paradise.

Business tourism has grown exponentially, Playa de Palma is now an ideal venue for all kinds
of events, incentive trips, groups, congresses ... plus a perfect choice for enjoying a few days of relaxation.

The wide range of sports allows visitors to practice their favorite sport, highlighting water sports, cycling
and golf.

The local cuisine is rich and varied, so it is another unavoidable claim and enjoy both restaurants in the area
as around the island will be happy exquisite obligción.



The Playa de Palma extends between the center of Palma, past El Molinar, is Coll d'en Rebassa, Can Pastilla and El Arenal
up to Llucmajor.

The beach has a total length of 4600m, an average width of 50m, equipped with all the services that you can
have a beach on a distinctly urban environment.
The sandy beach is white and has surveillance services, spas, kiosks, showers, hammocks,
umbrellas, water sports rentals, beach cleaning services, etc.

At its east end is the marina "Club Nautico Arenal Llucmajor".

From Palma has public transport through line 15 EMT leaving the Plaza de la Reina de Palma
and lines 1, 2.3 and 8 from Llucmajor and from Palma.

It is totally impossible to get bored in Playa de Palma, on the day, besides the beach and terraces, can give a
stroll through the weekly market or take the tourist train that offers another view of the beach.



At night, the more wide range of clubs, pubs and terraces of Playa de Palma, guarantee you will always find
desired his environment, with his music, the company that likes most and your favorite beverage.

And if you prefer more traditional entertainment in Playa de Palma no shortage of festivals, the summer festivals
or Carnival in February, any time is good to celebrate and enjoy music, dancing and joy on the streets.





There are also various cultural activities like concerts "A Winter in Mallorca".
Activities, services & Restaurants
In
Palma
highlight
the myriad
of options available to
all public
(

Learn more

by clicking on

the photo

)
Palma Cultural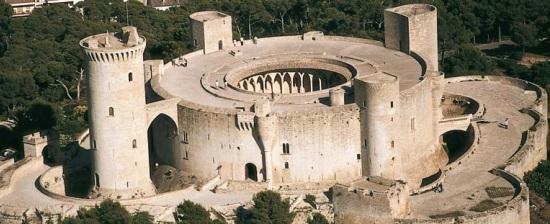 Palma
has
many monuments and
museums to visit
,
such as:
Bellver
Castle
.
The Cathedral of
Palma
(Sa
Seu
)
The
Almudaina Palace
.
Sa
Llotja
(
the fish market
)
The museum
des
Baluard
and many more
, discover
with us!
---
Palma Active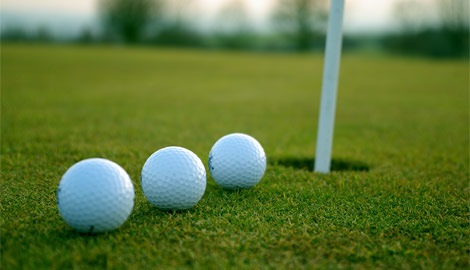 The pleasant climate of
Palma
invited to
play sports
Outdoor
among which
golf and
sailing.
Regarding the former
,
the tourist
town
only
has
five available
18 hole golf courses
,
fully equipped
,
located
in
beautiful surroundings
.
Palma
is a paradise for
all fans of
sea
with beaches
,
bathing
, yacht clubs
and marinas.
The
Thrill seekers
can enjoy
activities such as
windsurfing
, kitesurfing
, wakeboarding
, skateboarding,
etc
If cycling
and hiking
Mallorca
find
a perfect place
for these sports
and
travel around the island
,
through its network
of
signposted routes
from
Palma,
a tour of
the island of
Mallorca
offers
many
different landscapes
.
---
Gastronomy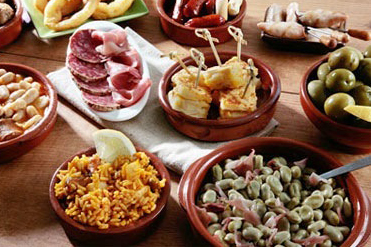 The
Balearic cuisine
is a reflection
of Mediterranean cuisine
.
Products with
own Denomination of Origin
like
sobrasada,
Mahon
cheese
and
wines from
Binissalem
-Mallorca
, add to
local recipes
.
The
tumbet
, rice
fish
or
"pa
amb
oli"
must-haves
.
The hunt
, fish
, seafood,
fruits and vegetables
and
speak of
the variety
cuisine
of the islands.
For dessert, nothing
better than a
ensaimada
with
chocolate
or some
booze
here
(
palo,
gin
or herbs
)
are distilled
.
Best to
know the environment
and
traditional cuisine
de Palma
is
approaching any of
his old
cafés
and ovens.
Also, the
city has
more than 1,000 restaurants
where besides the
typical dishes
offer a wide range
of cuisines from around
the world and
elaborations of
internationally renowned
chefs
.
The
most popular
restaurants are located in
several areas
:
the old town,
the promenade,
the
Paseo del
Born,
Santa Catalina
, Es
Molinar
...
One recommendation
:
if you want
to buy organic products
as
sobrasadas
, cheese
, almonds
, pastry
...
nothing like
approaching
markets
with great
charm as the
Olivet
.
---
For Youth
The Balearic
Islands
are famous
for its fun
nightlife and
Palma
is one
of the best places
for it.
In the capital
many
terraces
, pubs
and
bars are
perfect
for
drinks
and
great
nightclubs
where
dancing to
some
of the best known
in the music scene
DJs
.
Many of
these local
are located
on the seafront
and
not difficult to find
in them
famous people
who choose
Mallorca
as a holiday
.
The possibilities
Palma
before
"
partying
"
are varied,
both
from a
lively evening
in the historical district
and
beach areas,
to
go to
the
casino
or
attend performances of
music, dance
and acrobatics
while dining
in large rooms
or
in
the
typical Mallorcan
courtyards decorated
for the occasion.
---
With children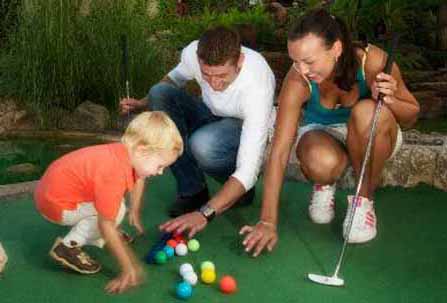 In
Palma
, fun and
family entertainment
are guaranteed.
And this
city
has five
beaches and
eight
bathing areas,
practically
all
perfectly
calm waters and
watched
where
, thanks to the
mild temperatures
, it is always
a pleasure to
take a dip
.
Families can
also opt for
a visit to
Palma
Aquarium,
located in the
Playa de
Palma
with gardens
and interactive
aquariums.
Another
different and
fun way to meet
with younger
Palma
is
renting
a bicycle or a
segway
in
any of the companies
specializing in these services
.
To round off
an entertaining journey
,
nothing better than spending
a day in
the nearby water park
of El
Arenal
.
In the cultural sphere
, it is
possible to attend
festivals
designed for all
(
as the International
Puppet Theatre
) and
museums like the
Caixa
Forum
which organizes
many
educational activities
.
---
Shopping

Palma
is
an ideal place to
spend
a day
at
shopping.
This city
has the charm
of combining
exclusive shopping
areas
with small
traditional shops
where
trades
discover how
hundreds
of years old
are performed
,
or simply buy
local products.
There is
translated into six languages
(Catalan,
Castilian
,
English, German,
French and Italian)
proposed
four
commercial
routes
guide
for shopping
around town,
you can
get
free at
numerous
points
touristy
city information
.
Schedules
.
Most
shops and shopping
centers are open from
10.00 to 20.00
.
and for several
Sundays
throughout the
year.
Clearance
.
Begin
the second
week of January
until the end
of February for the
winter season,
and from
July 1
until the end of
August for
summer season.
How to Pay
.
It is usual to
pay in cash or
card,
card case
show your passport or
identity card.
---
Big Game Fishing / Yacht Charter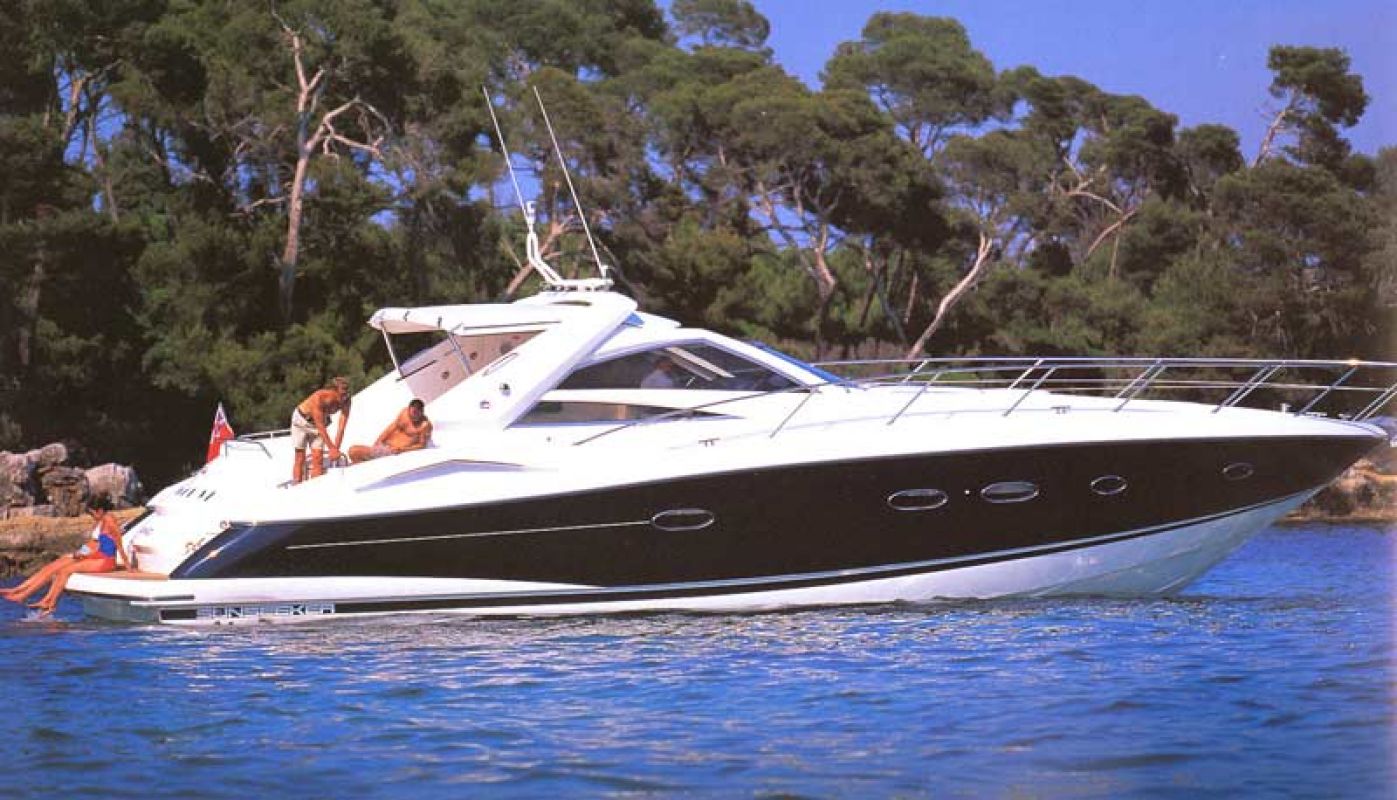 We work with few charter comapanies over the island.
If you want to have a great day visiting local bays wich you only arrive
by seaway, cruising through cristal clear mediterranean water or visit
Menorca, as well our charter companys organize all kind of fishing
activities,bottom fishing igging, spinning and Big Game Fishing so you`ll
never get bored on the boat. If you are interested,
please let us know in your enquiry and we will prepare the quotation.
---
Mallorca Airport Transfers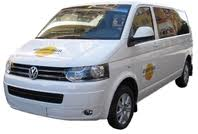 We work with one of the best transfer companies in Majorca, with
them it's possible organize a transfer for goups up to 16 persons,
with competitive rates. Please if you are interested, please let us
know in your enquiry and we will prepare the quotation.



---
Limousine rental



Villas Comfort offers you the chance to enjoy the luxury with a
exclusive limousine for you, perfect for weddings, events, shopping in
Majorca or any service that makes you miss,always with maximum
discretion. You just have to request the service a few days in
advance, and will gladly manage the procurement of this
select service.

---
Didi`s Coast Adventure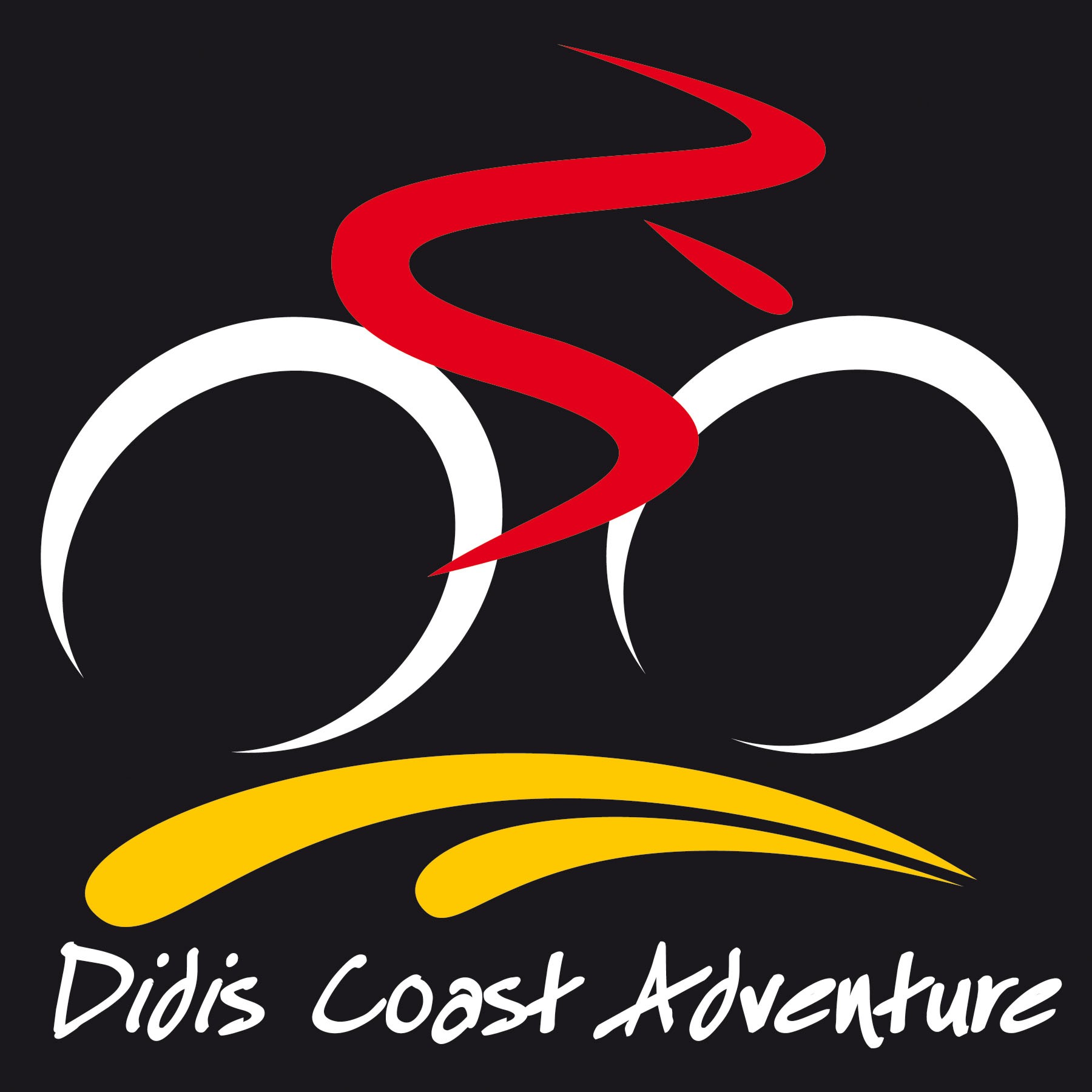 In Didi's Coast Adventure you can find everything related to outdoor sports in Mallorca.
From mountain biking, Nordic walking or just walking.They offer high quality mountain
bikes,road bikes and trekking bikes to rent. All the views over the quiet pathspassing
by sheeps and goats, with a spectacular view of the
Serra de Tramuntana, deep gorges down to the most remote beaches of Mallorca.
With Didi's Coast Adventure you will have a memorable time and know about a side
of Mallorca that you did not know before .
Contact : Tel: 0034 – 61 70 75 76 4 // email: mail@coastadventure.net
---
Private Cheff Service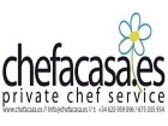 Chefacasa is a young and innnovate company whose philosophy is
based on creativity, taste and quality. All chefs have a large experience
in renowned restaurants and cattering companies.
---
Left Luggage in Palma de Mallorca
Open every day, including sundays and public holidays.
We also offer Lockers, where you can leave your Luggage and pick it up out of our opening time.
You can leave us your suitcases, shopping bags or bicycles for more than one day. For example, a bike for 3 days would cost 3x5.50€=16.50€
Long term: 15 days 45€, 1 Month 60€, 3 Months 90€
Plaza de España
07002 Palma de Mallorca
Tel. +34 971 716 417
info@palmalockandgo.com

---
Majorca Tourist Information Guide
Majorca-Mallorca.co.uk
Tourist information on the island of Majorca, with maps and guides to the bars,
hotels, restaurants, and other visitor attractions in the larger resorts.
-Click on the image to visit the web-
---
Chirac P. | Date Stay: October 2013
WE had a great visit in Can pastille at this house. Very spacious- there were ten of us- and very clean. Lots of clean towels and super to have a massive fridge and freezer! The pool was loved by the children and the location was handy for the beach as well as for getting into Palma centre easily. Jose was great to communicate with before we arrived and was on hand to explain how the house worked. The weather was amazing- which helped a lot. You can get a bus straight to the airport from just up the road- so try that rather than a taxi!Thanks again! Chiara Piacentini
---
Giovanna J. | Date Stay: September 2013
Zuerst einen lieben Dank an die Verwalter des Hauses. Unkompliziert und Super nett!
Wir waren mit 8 Frauen in diesem Haus und hatten 4 wundervolle Tage. Ausstattung Super. Interieur stylisch. Lage gut. Wir haben auch 2x mal für alle gekocht- die Ausstattung der Küche war sehr gut. Gewürze waren auch vorhanden. Wir haben das Haus tagsüber kaum verlassen :-), der eigene Pool war ein Traum.
Wir hatten eine tolle Zeit und können dieses Haus weiter empfehlen.
Danke und viele Grüße von den "RheinChicks" aus Emmerich am Rhein
---
Jo | Date Stay: May 2015
Lovely villa. Completely as described. Modern and clean with every facility we needed. Jose was extremely helpful and was always prompt to respond to emails. Easy access from the airport does mean you can see and hear the planes during the day but this wasn't a huge issue for us.
---
Renaye W. | Date Stay: October 2016
Great villa and perfect location for a holiday !
---
Nicola B. | Date Stay: April 2017
A beautiful property in a lovely area. Good communication with owners
---
Johan | Date Stay: May 2017
Plenty of space for 12 persons

Good standard and well equipped functional villa. Very easy and quick reply from rental service and owner. Beaches, restaurants and busses to Palma within walking distance. Some noice from take off and arrival airplanes. Rent a cycle and bike to Palma all along the coast-recommended. Enjoy a nice holiday in Can Pastilla/Palma!
---
Romain | Date Stay: January 2018
Super villa, merci pour le séjour. Interlocuteur très sympa et réactif!
---
Victor | Date Stay: October 2017
Big bedrooms, well equipped kitchen. Nice swimming pool. Close to Palma and the airport. Warm welcome when we arrived. Wine and fruits were waiting for us. The airport is very nearby as you can see on the map so don't be surprised that you hear airplanes!
---
Frank | Date Stay: June 2018
Tolles Haus!
Die Bilder geben (bis auf den Gasgrill, ein gemauerter Grill steht zur Verfügung) einen realistischen (tollen) Eindruck des Hauses wieder. Vermieter sehr nett, guter Kontakt. Wir würden wieder buchen. Einziger Wermutstropfen: der Flughafen ist Nahe und je nach Windrichtung starten die Flugzeuge ein paar hundert Meter neben dem Haus. Uns hat es nicht gestört.
---
Markus | Date Stay: July 2018
Fin och välplanerad villa för 2 till 3 familjer.
Fin och modern villa bra utrustad med bland annat pool och Wifi. Vi hade lite strul med dålig lukt från Air condition men det åtgärdades efter att vi påpekat det. Väldigt enkelt att komma i kontakt med ansvarig för bostaden Jose Carlos som också var väldigt service inriktad.
---
Step 2

Please check price details

Step 3

Please fill out with your info

Step 4

Review your reservation